12 Sep

Art Business Conference London 2019: from "A" to "Z"

In a religious setting, the Church House Conference Center, and near the Parliament where it was voting on the hard exit of Europe driven by Boris Johnson, talked about art, money and luxury, exports, technology and digital marketing and, obviously, Brexit. With the chords of London Calling the atmosphere began to be de-centralized ("Holy is the true light", says a legend in the magnificent vault of the enclosure) to enter into more mundane themes: the global vision of the art market, the relationship of art with finance, investment in start-up art companies, imports and exports under the threat of "no-deal". After several networking stops, the focus was on auction houses, online sales, to end with a panel on luxury and its relationship with art.
An intense day with companies, and representatives, from all sectors of the art world and professionals from all parts of the world: we would like to see more Spanish faces in this type of events but today, our position in the world ranking (1% of sales) seems to justify that little or no talk about Spain.
---
Art Business Conference in headlines from A to Z
(A) Art and technology.
Companies like Articheck, ArtLogic, Rambase, Vastari, presents at the event, make it clear that companies in the sector want to adapt to the 21st century and reach their customers, will have to embrace technology: from the use of software for management and the publication of catalogs on the web, through the connection with international dissemination platforms (Artsy, The-sale-room) to platforms that connect collectors with museums for temporary exhibitions, or applications to make condition reports with one click. Technology is an ally in the management of art companies and facilitates commercialization.
(B) Brexit.
We said it in the intro, a few meters from the conference, Boris Johnson tried to convince, without success, the British parliament for a hard Brexit. The inaugural talk "The Global View" brought the problem to the fore several times: the feeling is that the logistics companies, aware of the problem, have the contingency plans. Galleries and auction houses await events because, as Thaddeus Ropac said, "we cannot prepare for what we do not know." In any case, everyone looks at Paris as a solution.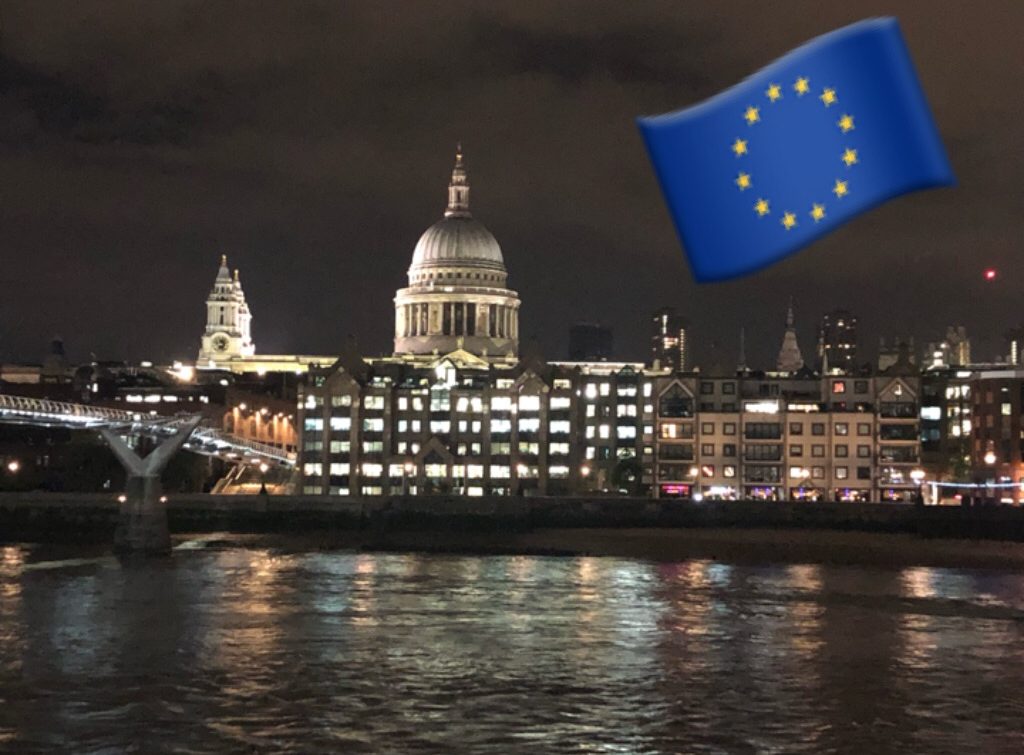 (C) Climate change.
In the era of Greta Thunberg, of the alarm of climate change, the sector does not remain impassive: gallery owners commented that they are looking for solutions for recycling, that there are artists very concerned with the issue and that they require changes such as more shipments per ship instead of using planes; Museums, according to the director of the V&A Museum in London, have to be at the forefront of that claim.
(D) Demography
Different panels talked about millennials, new buyers, and how they buy for the first time in galleries and auction houses online.
«Dealers reported that 52% of new sales were to new buyers, according to Saskia Clifford-Mobley (Artsy).»
(É) Ethics and civil responsibility
Not only is climate change an emergency, the sector also recognizes that measures must be taken and reflect on the social responsibility of art companies, especially if they are public such as museums: there is a strong debate about whether donations from companies should be accepted corporate reputation, or have potential speculators in museum councils … in short, a debate on revolving doors that we know from other sectors.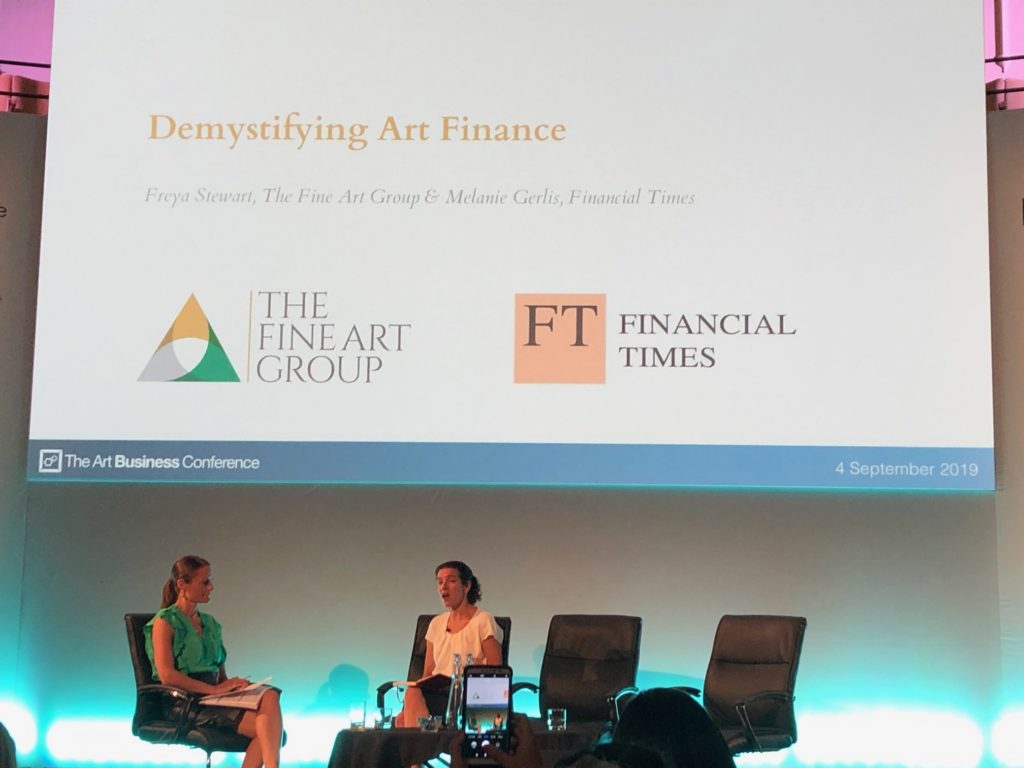 (F) Finance and art.
Fredya Stewart of Fine Art Group and Melanie Gerlis, Financial Times, talked about the growing importance of loans using art collections as collateral. Fine Art Group has been creating successful art investment funds for years and now they detect that there are collectors and entrepreneurs who, while waiting for a sales opportunity, can capitalize on their art collection that is used as collateral Art lending. A topic of which several articles have been published recently and that moves millions of dollars.
(G) Global.
Two themes were transversal at the conference: globality and "the online".
"More than 90% of the works we took out in Dorotheum as well as our buyers are international when fifteen years ago most were Austrians." Martina Batovick, Dorotheum Auction House.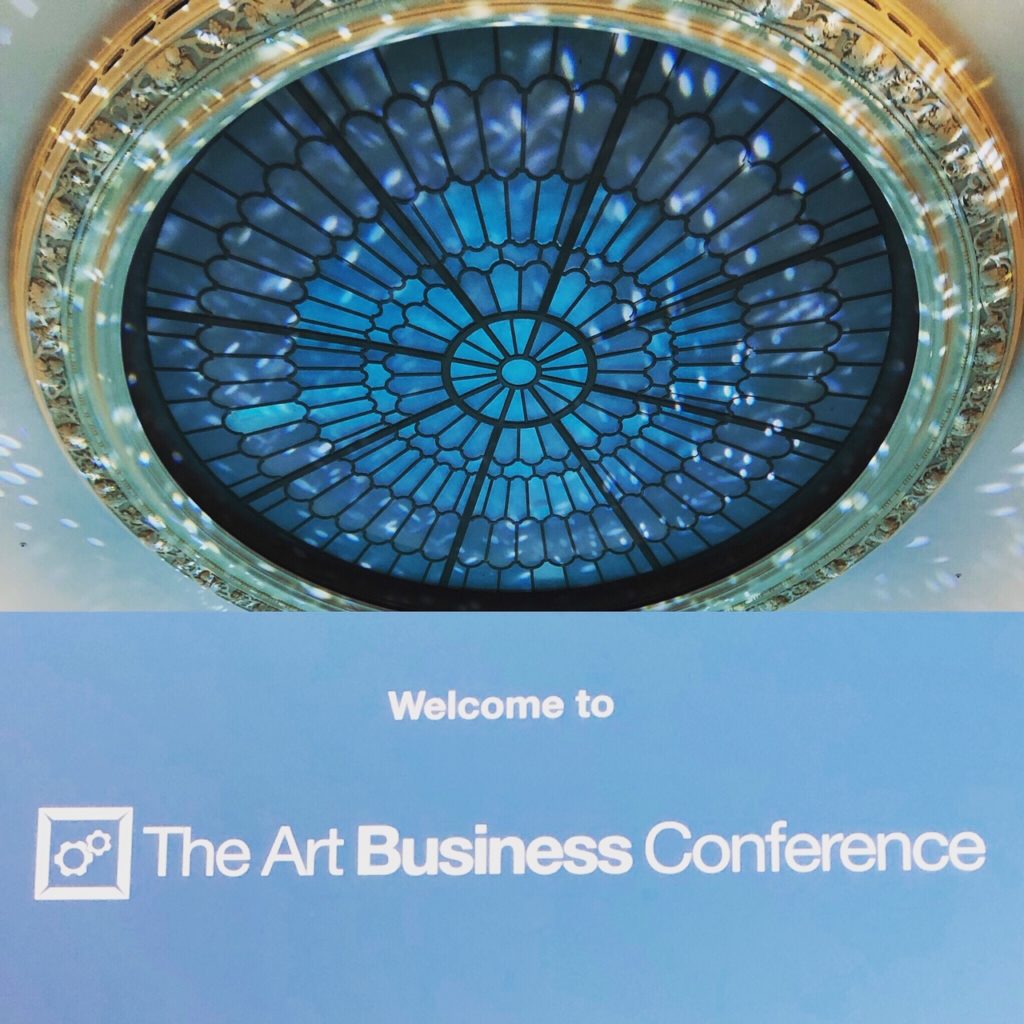 (I) Invest in start-ups of the art sector.
In addition to the investment in art «because yes» you can also invest in companies in the art sector. Very interesting was the debate about how Bernadine Bröcker launched Vastari a few years ago and how its investors have evolved throughout the company's growth.
«How can art businesses align better with investors" there aren't enough visible returns from art businesses to encourage investment. "Bernadine Bröcker Wieder, Vastari
(O) Online.
Yes, again, the online: Adrian Biddell of Chiswick said that 50% of its sales come from the online channel.
Adrian Biddell: @chiswick_auctions: '50% of sales are #onlinebidding '. #thomasgalbraith @hindmanauctions: '1-5% commission to auction aggregator is passed on to buyer.'
(P) Paris.
Paris, the former capital of art, was mentioned several times until the emergence of London and then New York. The city of light has a golden opportunity to recover positions, and it seems that it is already taking advantage of market uncertainty.
"Paris will profit from the [Brexit] situation, the city will become more important. But London still has critical mass and is a major player. "Thaddaeus Ropac
(L) Luxury.
Companies like Rolls Royce explained their relationship with the art world, and there was talk of the intersection of both industries, luxury and art seem to share buyers.
(R) Reactive
Again we return to Artsy and the panel taught by Saskia Clifford. Its recommendation is that you have to be reactive and fast in serving customers and something important: putting the prices of the works on the web multiplies the sales possibilities by six.
"Be responsive and engaged, transparent. Responding in 24 hours has a much higher success rate than replying a week later. Businesses that publish prices see up to 6x more sales vs price on request "@SCliffordMobley
@SCliffordMobley from @artsy on facilitating sales online #artbusinessconference
(S) Time auctions (online only)
In the panel "The Auction View" senior officials of Hindman Auctioneers, Chiswick and Dorotheum explained the current and short term of their business. There were so much talk about the platforms and how it benefits auction houses (especially those that do not have the capacity to invest in technology). All noted the belief that in five years the auctions by time from their websites or with partners will be more frequent and more important at the billing level.
(T) Transportation of works of art
The transport has become a workhorse because it is the part that cannot be converted into bits, the piece must be physically carried around the world, and this has many repercussions. Brexit is a stressful factor in this regard.
La globalización es positiva pero genera que el transporte sea uno de los temas que generan más gasto (seguros de daño) Axa tiene que velar por trabajar cercanamente con sus clientes #ArtBusinessConference otros temas preocupantes: carbon print de los viajes y las ferias, https://t.co/Bvu3LDZQob
— J.A Rodríguez Gamero (@juanrgamero) September 4, 2019
(V) Added value.
In an increasingly competitive art world, platforms will have to give both auction houses and galleries and customers added value.
(Ñ and Z) Spain
Unfortunately, our country was not mentioned (unlike France, Germany and Italy) and in addition to The Art Market there was no other local representation. We have the Z of being 1%. And Ñ is our differential character, we have many top-notch artists and we must capitalize on that and the opportunities that Brexit offers.
Are we ready?

Fundador, The Art Market Agency.
Experto en marketing online con más de diez años de experiencia ayudando a empresas a crecer en el entorno online. Conocedor de las principales plataformas de comercialización del sector arte y de cómo sacarles el mejor partido para rentabilizarlas.