02 Feb

Dot-com companies that are changing the art world (Part 1)

Today, we open a new serie of articles analyzing current dot-com companies who bring changes to the global art world. Wether by expanding it to new horizons or simply turning it upside down. However, to better understand the present we have to look back to our past. We begin our journey investigating the tortuous relationship between art and technology 20 years ago with the birth of AuctionWeb. Pierre Omidyar, a Franco-Irani-American programmer, founded the company in 1995. The same year, he sold his very first lot: a broken laser pointer for $14.83. When Omidyar realized the object was damaged he immediately called the buyer who replied, "I don't care if it's broken. I am a collector of laser pointers". In 1997, AuctionWeb officially changed its name to eBay and a giant was born. Little by little, the art world began to change. Here's the story.

Ebay and the first wave of the Internet

To talk about the origins of selling art online is to talk about the history of eBay. As we previously mentionned, AuctionWeb was created in 1995 by programmer Pierre Omydiar and renamed eBay in 1997. His intention was to create a marketplace for individuals to sell all kinds of objects between them. For some reason, he thought the auction format would be ideally suited for his project. In a short amount of time, eBay was hosting thousands of online auctions and attracting attention from big businesses within the traditional art market. For example, this dot-com company and Sotheby's share a history of mutual agreement, partnership and failure.

In 1999, eBay bought the American auction house Butterfield & Butterfield, who was third in the US ranking at the time, for $260 million. "The art industry is changing drastically," said John Gallo, then president of Buttlerfield's, "And we need technology, we need marketing and we need customer service. eBay will bring us all three.". Interestingly enough, he also affirmed that: "If you take the top ten auctioneering firms in the world, they have a total customer base of under 500,000 people, […] eBay has 6.5 million users". Now, we know that Gallo was right regarding the globalization and the democratization of the art market. However, the problem was that this became a reality only in the first decade of the 2000's. This was too late to pay off an investment of $ 260 million. Just three years after acquiring Buttlerfield & Butterfield, eBay sold it to Bonham's.

In the 2002 digital press we can read that with this sale eBay admits that its attempts to access the highest segment of the art sector has not been successful. Experts like David Kathman of the E-commerce Times expressed that: "This is not exactly a shock, because the Butterfields experiment never worked out the way eBay hoped."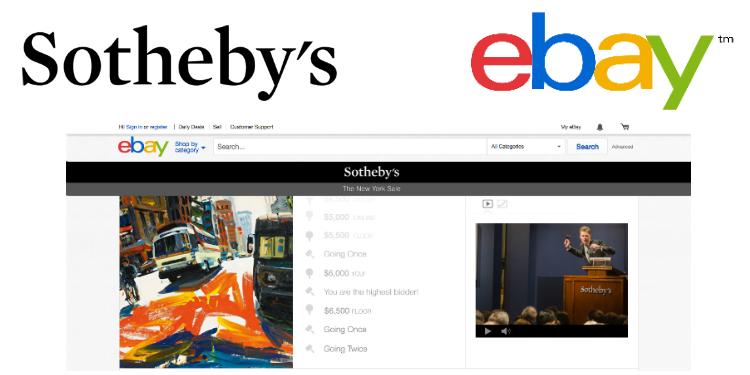 eBay was born on the Internet and managed to bring together millions of users interested in products from the lower segment of the art industry since de mid 1995. This is regarded as the first wave of the online auction market. Nevertheless, Sotheby's, a traditional brick-and-mortar company, showed interest in internet sales from the very beginning. Unfortunately, their initial attempt wasn't a success. In 1999, Sotheby's announced a $ 25 million plan for the creation of a fully online marketplace; the first of its kind in the world of large auction houses. The master plan was to sign agreements with more than 5,000 dealers who would provide artworks for the virtual sales market, independently from the house's live auctions. In 2003, the project was discarded, the investment evaporated, and the impression was left that art (at least the higher segments of the market) could not be sold online. Like John Gallo, the directors of Sotheby's anticipated the demand before it appeared or maybe they're strategy wasn't adequate.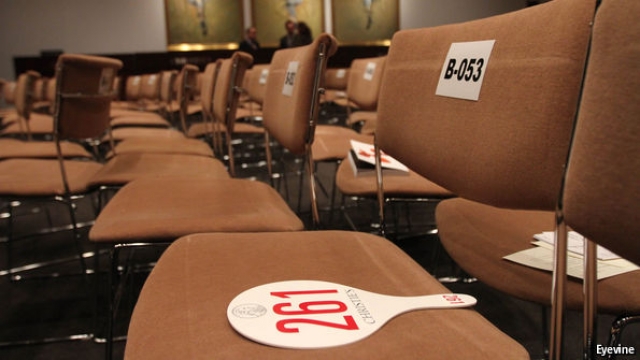 Sotheby's never stopped believing in the online market. As Georgina Adam explains in her book Big Bucks: The Explosion of the Art Market in the 21st Century: "The idea of ​​selling art online is not new: dozens of art sales were started up during the 'dot.com boom' of the late 1990s, but most collapsed in the spectacular bust of 2000, sometimes with astonishing rapidity." In addition to their experiment with eBay, Sotheby's partnered with Amazon in an adventure where the auction house invested $45 million in the online commerce giant. It did not work either.
Other projects such as EAuctionroom, Eappraissal and Circeline.com are all example of the search for the online art market "El Dorado". From this initial era, only two companies Artnet and EyeStorm are still active. In spite of all this, Georgina Adam explains that: "the belief in the possibilities of the Internet as an ideal means for acquiring art in the future have never disappeared and a new generation of websites are now struggling to gain market attention".
In 2003, Christie's implemented its online sales section hosted within their website and Sotheby's was left out of the online race for a while. A new period of consolidation for online art sales began and more disruptive dot-com company like Auctionata and Catawiki appeared on the market just as eBay did.
Auctionata and the consolidation of the online market leaders also: the second wave.
In the first decade of the 21st century, a new era began with the emergence of dot-com companies aiming to help auction houses and traditional galleries sell more art online. Others, wanted to offer art directly to the customer in an attempt to facilitate artists selling directly to the buyer which meant suppressing the middle-man. These new business were classified as "disruptive" and, just as in other industries like music, leisure and tourism, companies without physical headquarters started to compete with traditional players. Amazon is the clearest example of dot-com success as they are the largest books retailer in the world.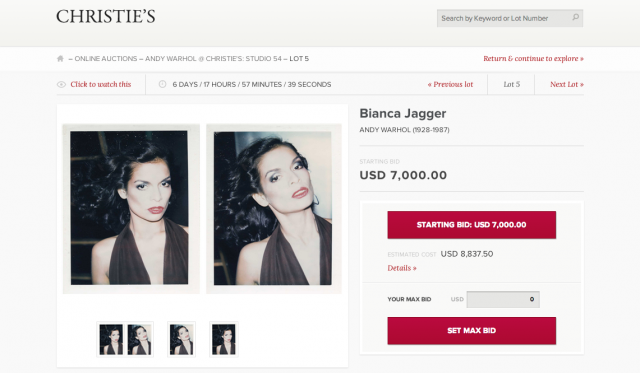 In 2008, ATG Media, owners of the art sector magazine Antique Trade Gazette, created a platform called TheSaleRoom.com. As market insiders they identified that medium and small auction houses didn't have access to the latest technology allowing the transmission and remote participation in live auctions via internet. They're platform became a host for small and medium auction house to offer their catalogue online. Their business grew exponentially, and laid the foundations of the second wave of online art business in UK and Europe. In parallel, Christie's was starting to accept online bids in its live auctions through its own technology. In 2012, they added the online only auctions sales on their website. A version similar to the eBay model which is increasingly popular within the art sector. Between 2010 and 2016 other  dot-com businesses emerged such as Artspace, Paddle8 and Auctionata.
Auctionata sought, with some initial success, to be the Amazon of the art market. With headquarters in Berlin and in New York, it skipped all traditions and held live-bidding auctions online hosted by a real auctioneer/presenter and transmitted by video technology. Their style captivated dealers, collectors and the general public which were all watching online. The excessive growth of the company, the pressure of multi-millions investments and some legal issues knocked down the German online giant in 2016. An online art market based on Silicon Valley model has proved to be of little success in this business. Current online giants (Artnet, Invaluable and Arsty, which will be discussed below) did learn their lesson: it is extremely difficult to build a brand in the higher segment of the art market without having access to a qualified and reliable collector database.
Sotheby's partnered once again with eBay in 2014. Under this new agreement, Sotheby's lots would be offered within eBay's marketplace, which already had 145 million users in 90 countries. "The Internet leader and the iconic art and auction company are uniting!" shouted the international press. Thanks to this agreement, we are now able to follow in "live-streaming" (video with the possibility of live bidding) certain auctions of Sotheby's from anywhere in the world. The goal is, once again, to reach a new clientele: young, interconnected and interested in art – the millennials.
Invaluable is undoubtedly, with Artsy, one of the companies that has best capitalized on technology and marketing to become irreplaceable for collectors. In this series next article we will talk about both.
The third wave: real turmoil in the art market?
Catawiki is the fastest growing online auction platform for unique objects in the world. The company was founded in 2008 as a community for collectors. Now, it has become the main online meeting point to sell and buy unique items. On November 25, 2011 Catawiki launched its first online auction by selling a game featuring Tom Poes, a famous Dutch comic character.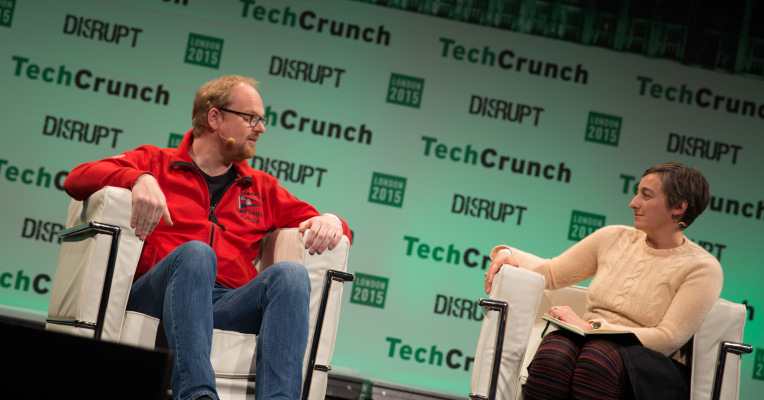 Since then, the company has organized thousands of auctions, it offers more than 35,000 items each week and hold more than 80 categories from classic cars to collectible watches. Every  auction is supervised by an expert auctioneer in the field who guarantees the quality of every lot. The company also offers a special system for simple and safe online payments.
To this date, Catawiki has already obtained 86 million euros in financing from the world's leading investors including Peak Capital, Accel Partner and Lead Edge Capital. The company is present in Netherlands, Belgium, France, Germany, United Kingdom, Italy and Spain. Catawiki is accessible online and through their free app. Recently, we've published a few article regarding interesting sales at Catawiki and we will continue to keep you informed.
Our goal is to bring you more information regarding many of the companies we've mentioned above and, hopefully, we should be able to interview them soom. To expand and add information to this report please do not hesitate to write to info@theartmarket.es.
Translated by: Camila Jourdain.

Fundador, The Art Market Agency.
Experto en marketing online con más de diez años de experiencia ayudando a empresas a crecer en el entorno online. Conocedor de las principales plataformas de comercialización del sector arte y de cómo sacarles el mejor partido para rentabilizarlas.