12 Feb

Art sector start-ups, iazzu: Buy art using augmented reality

In parallel to our series of articles on "the dotcom that are changing the world of art" we want to analyze new projects that converge in the art plus technology segment, companies called Start-ups with less than three years of existence. Today we talk about iazzu, an urban art marketplace that uses the technology of augmented reality. The promoters of the project are Romana & Stephan Müller and Nico Kunz. We spoke with Kunz during the Talking Galleries event and we published an extensive interview, after which we have a huge desire to try the experience of staying at the APT (Art Gallery Apartment) of iazzu (note that they ask us to respect the brand and write always the initial "i" in lowercase) and meet the artists who collaborate in the project. We get the impression that soon we can tell you more stories about iazzu and his team, for now we leave you with this interesting interview with Kunz, the co-founder of the project. Here we go!

P. The Online Art Market is growing year over year getting close to 4 billion $ revenue, also is a very fragmented market with Online Galleries, Art Online Marketplaces, Brick and Clicks, etc. Where does iazzu fits in this booming market?

The idea of developing iazzu was born out of my own needs: being an art collector myself, it is not new for me that we depend less on "physical" galleries. More and more people buy art based solely on the digital image – something unimaginable just a decade ago. The only thing I missed was a way to be sure that the work I was going to buy online fit in my own space.

We launched iazzu with the aim of bringing the best of the web to the art industry, making it easy to visualize and buy works of art: in our web and app we transform the way of discovering contemporary art through the use of augmented reality (AR). We believe that this function increases customer confidence, in iazzu you can find "curated" art collections that range from painting to sculpture.

P. Pitch elevator of iazzu:

R. Simple: "Buy art using augmented reality" and of course "discover original urban art by the best artists". Our app eliminates one of the biggest obstacle when buying online art: answering the question, how will it fit on my wall? This makes us the only online marketplace offering art enthusiasts a differentiated, unique user experience. The frontiers of art and technology are constantly changing; Our vision is to make buying online art a secure, transparent and enjoyable process. Our mission is to bring value through innovation, and bridge the gap between artists creating and people collecting.

Our team consists of 3 Co-Founders: Romana & Stephan Müller and myself. Romana has an impressive professional career in different areas of business development, her experience includes leadership positions at IBM or Red Bull. For his part, Stephan is a technology enthusiast with a degree in Computer Science and a Master's degree in animation and post-production, based in Barcelona, ​​and CTO of iazzu -. As the son of an artist, and long-time art enthusiast I have co-founded iazzu after collecting art for over 20 years. My private collection has got a wide range of works from modern to contemporary. Here at iazzu, I am responsible for the company strategy, direction and capital allocation.

P. How many works/artists are available at iazzu and also how many customers are already using your App & Platform?

At iazzu, each artwork is carefully curated and we personally know all of the artists we work with. We are proud to showcase artworks of approximately 50 artists. The idea behind iazzu is to offer diverse works of art from different artists with unique styles, so we are always looking closely to find the next living legend taking advantage of our services and forming part of our growing family.

Since our launch last April we have been able to double our app downloads and increase sales figures month after month. We are constantly investing into innovation. In the coming weeks, we are launching the Android Version of our app and we are excited to announce new features for iOS and Android. Additionally, we are also working intensively on the revamping of our website, so our art lovers' community will be able to follow their favorite artists, get live chat support and then be notified when new artworks from your preferred artist are published.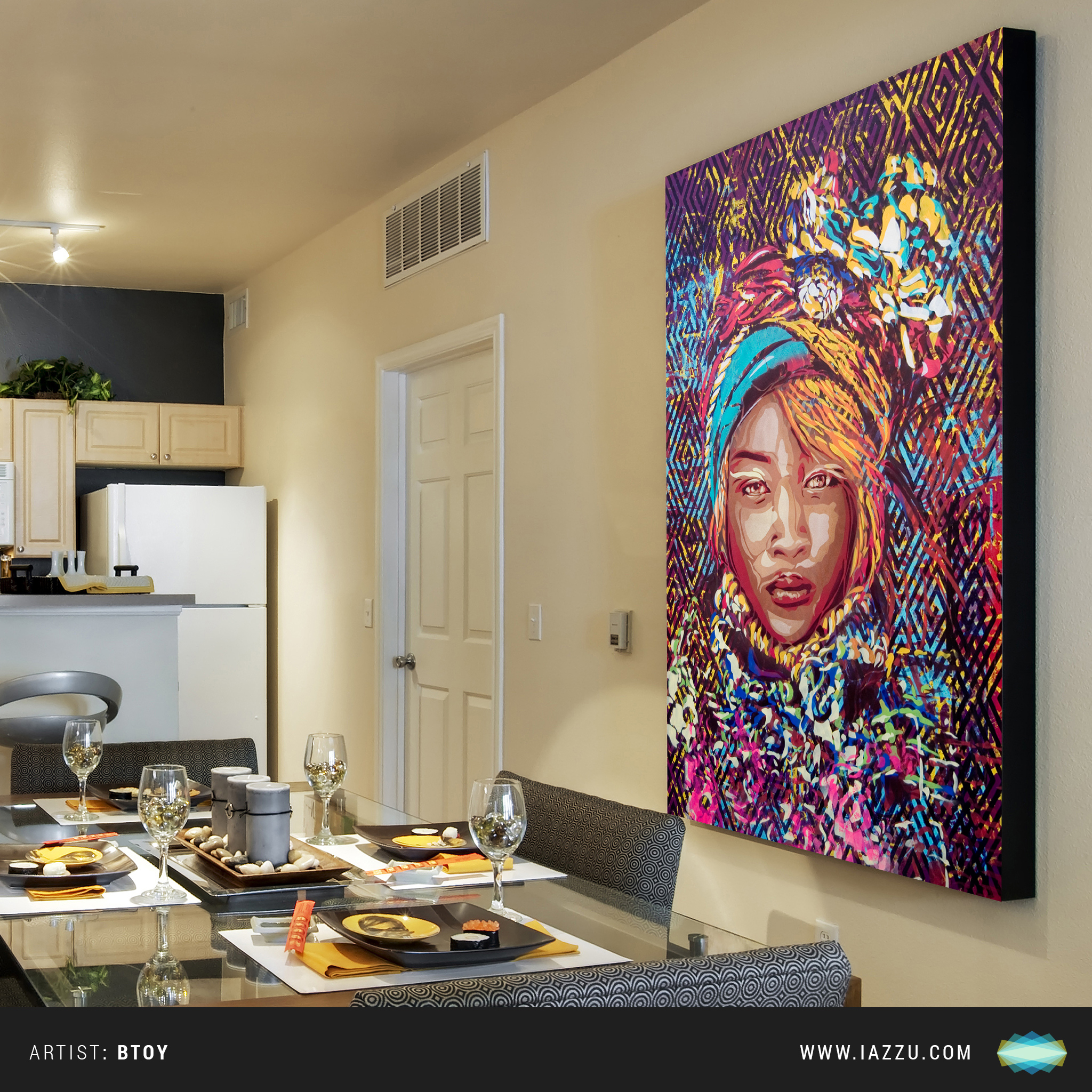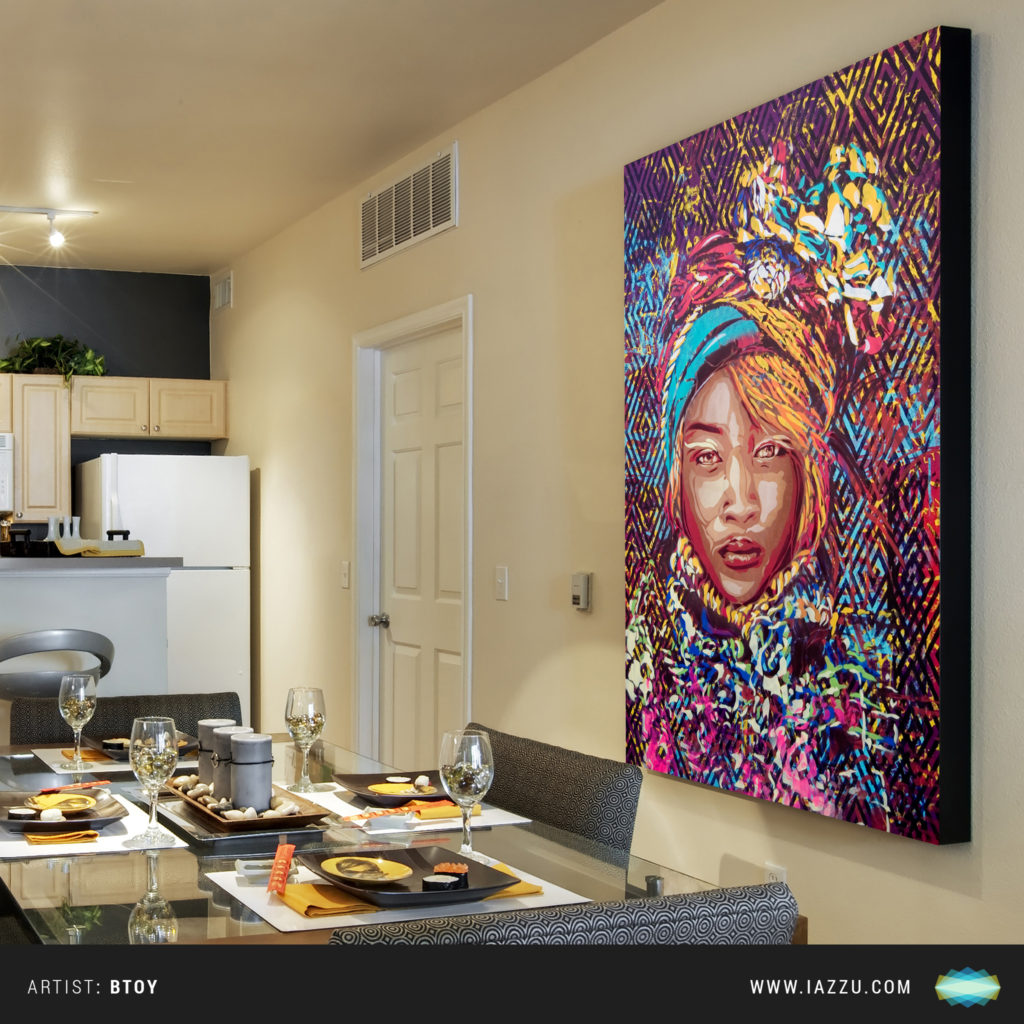 P. Looking at your App and the Art Category you push -Street Art- it seems that iazzu is targeting the Millennial customer: is it right or it is an App prospecting a bigger market?
Millennial characteristics vary by region, depending on social and economic conditions.This generation is generally marked by an increased use and familiarity with communication tools, the media, and of course, digital technologies.
We believe that this young, new art enthusiast feels that the process of buying from an online platform is less intimidating than buying from a physical gallery. As an innovative, young company we are also targeting the Millennials but we have a much wider audience.
P. At the top end of the market urban artists like Basquiat are getting record prices, is this trend helping to get reputation for the rest of urban artists? How is evolving this market segment in your opinion?
Artists like Keith Haring and his subway advertisement subversions and J-M Baquiat's SAMO tags are at the origin of street art. Due to their artistic recognition and their high-profile status, street art has become more accepted by the general public. Graffiti artists are regularly hired to transform products and commercial spaces into interesting and exciting objects. Some of them have earned international attention for their work and their market value had risen dramatically. This provides credibility and probably more recognition to this segment. Anyway We work with urban art as we are passionate about how the movement started, and evolved.
Nevertheless, street art is also becoming increasingly influenced by new technologies. For example, the use of the VR headsets takes viewers into a world that is fully curated and immersive and some artists are already experimenting with Google's Tilt Brush VR tool to create 3D art. During the Mural Festival in Montreal the British artist INSA has blown our minds with a piece painted on a street wall and converted into animated GIFs.
Another interesting and totally fresh concept from two artist's we work with: AkteOne & Cren. They recently started creating 3-D paintings that can be viewed using 3-D chroma glasses. The artists' 3-D technique is a grand, experimental space, which they continue to explore artistically.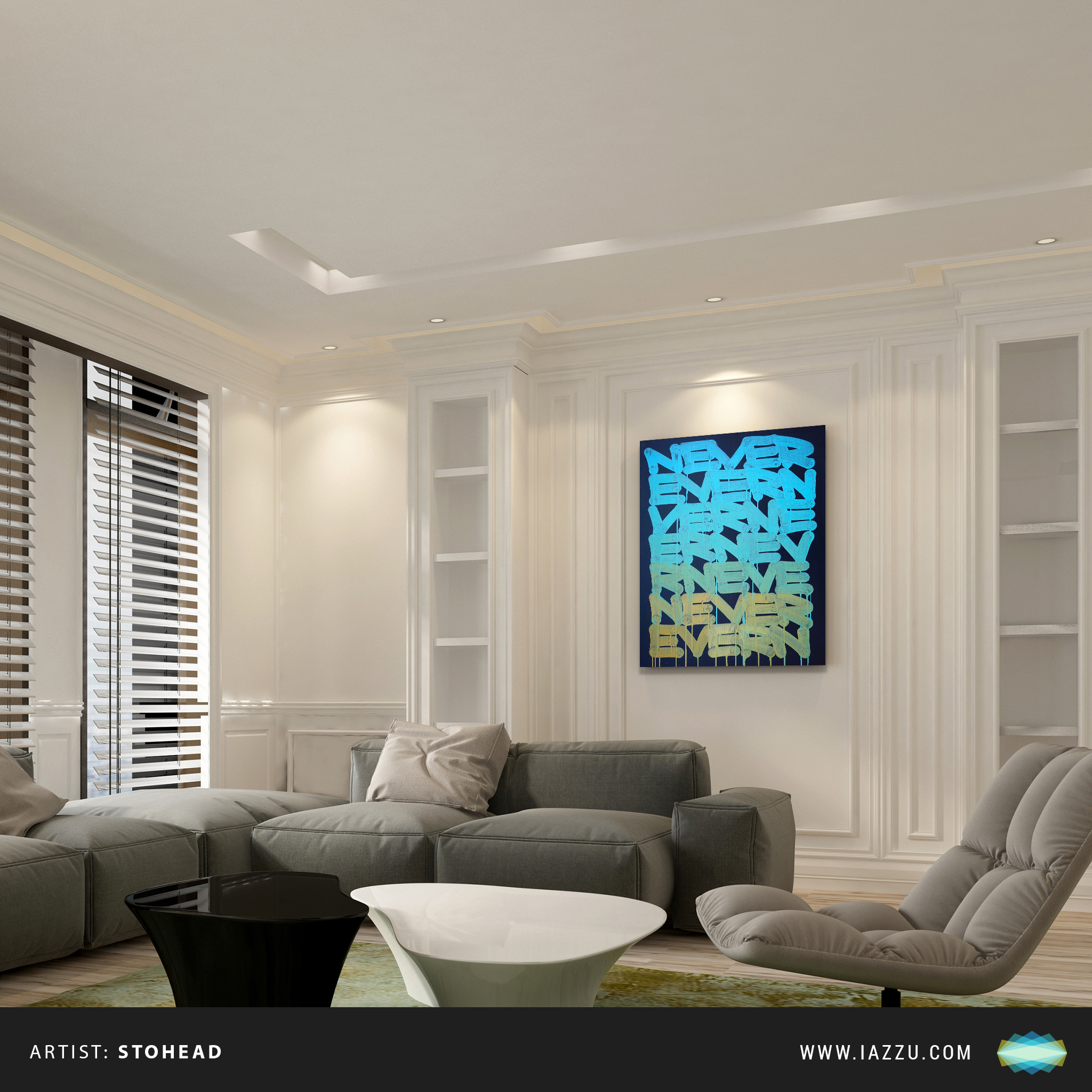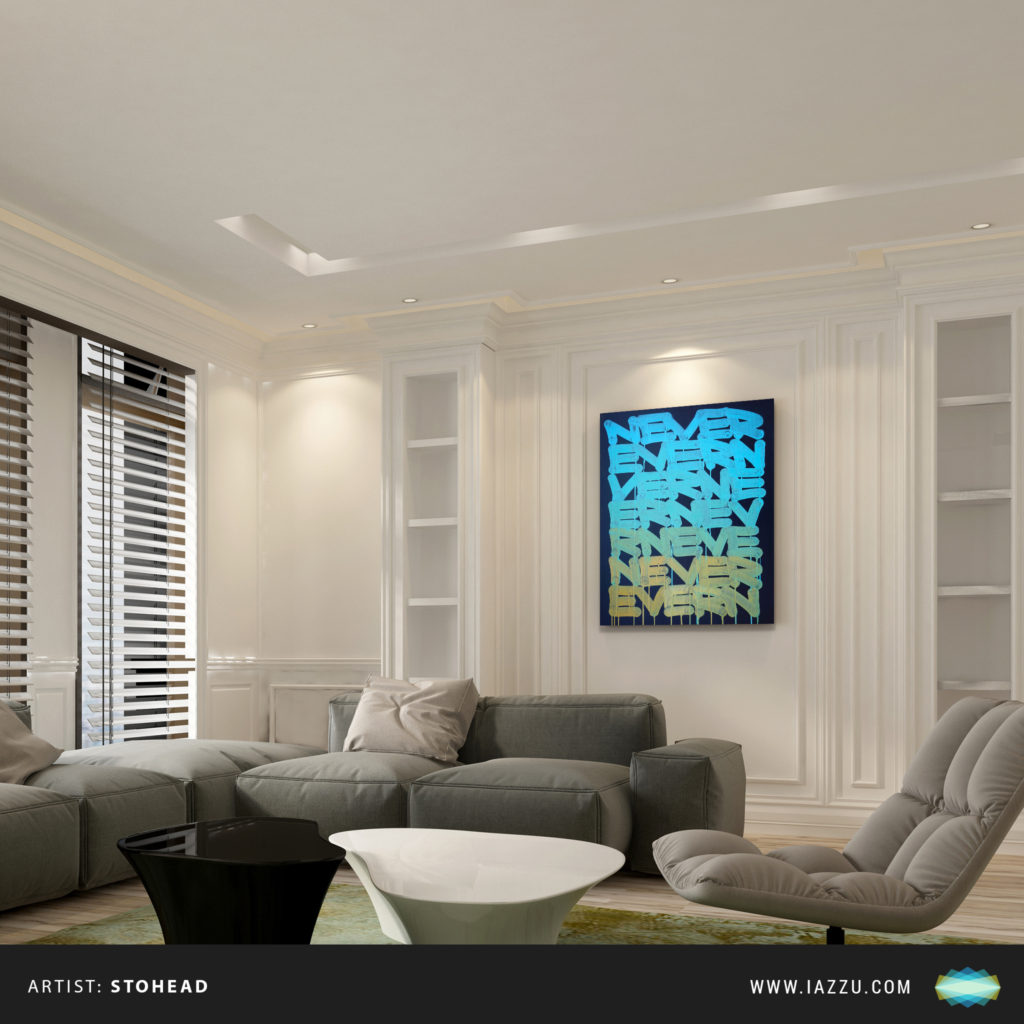 P. As you know some collectors are looking to invest in new artists, if you have to bid on the new names of the Urban Art which ones would you choose as the new kings?
Stohead from Germany, Based on his iconic roundtip style, quotes, and pattern pieces, Stohead is decomposing, stretching, dissolving, and deconstructing the strokes and structures of his "letter-paintings". Aryz from Spain is not only a graffiti artist, but also a talented illustrator and painter.And Vhils from Portugal. Vhils manipulates a variety of surfaces to create extraordinary vision.
P. Which features of iazzu separate your marketplace from others? I was looking at your "walls feature" (pictures taken from customers using your augment reality app), the swipe in/out Art Exploration….anything else you would like to point out?
We have developed the first application that combines browsing art with Augmented Reality, allowing potential customers to visualize how artworks will look in their home or office. Using the iazzu app, you can swipe, filter and browse stunning artworks by renowned artists and the Augmented Reality experience makes it possible for users to visualize the available works of art in their own custom environment.
In a recent Hiscox's study art buyers said their main worry was the lack of information regardingthe object and the artist, both with regards to its quality and provenance. At iazzu, we provide additional information including detailed artist profiles – biography, CV and links to the artists.
One of the features I personally love is the "public wall function". Once you have created your own wall with your preferred, piece of art from your favorite artist, you can then share it with your friends to get a second opinion. Weather this is on WhatsApp, Facebook, Instagram or your E-Mail.Last but not least, we offer our clients the possibility to buy commissioned artworks from any of the artists we work with. As we know personally all the artists we work with it makes it much more accessible and convenient.
P. iazzu also owns an "Art Gallery Apartment" which works as Gallery Space for your artists, as residence, …where also clients could stay in…how does link this project which your Marketplace?
The iazzu Art Gallery Apartment (APT) is a completely independent and alternative space which functions as an art gallery, artist residency as well as housing for collectors and art-lovers. We are particularly proud to say that iazzu is one of the first online galleries offering collectors the opportunity for physical, private viewings.
We will use this place partially as an artist residency. The artists in residence will benefit from a pleasant location, in the heart of the city to create with the opportunity to use the space for popup exhibitions.
These days, we are finalizing a cooperation with a foundation here in Barcelona who invites foreign artists to paints murals. During their stay in Barcelona some of them will have the opportunity to spend time in the iazzu residency.
As already mentioned the online art market is attracting, building confidence and cultivating an entirely new generation of art collectors. Younger art buyers, are becoming less dependent on the physical gallery as a destination to buy art and that there is an increasing level of indifference between the channels that collectors prefer using. For us a key success going forward will be the ability to offer potential art buyers when they are looking to acquire art the choice to use different channels. Why not spend some nights in our Gallery APT surrounded by beautiful art or meet the artist onsite and eventually participate in the art production process? The art lover ceases to be simply a buyer to become an active actor. We believe that trust comes also through personal contact with the artists and with the people behind iazzu but we also understand, that not everyone has the time and interest to do so anymore. With iazzu – you have the choice.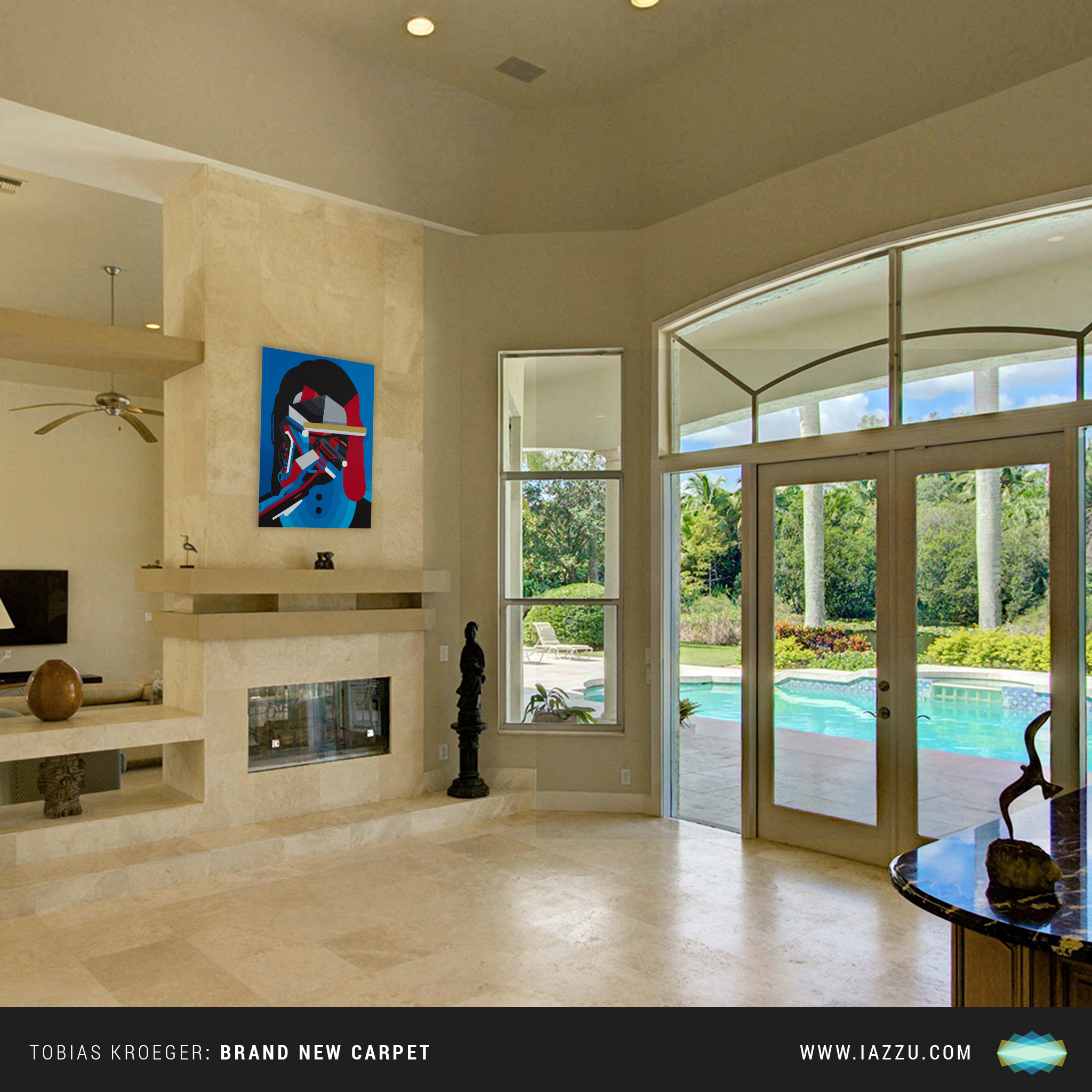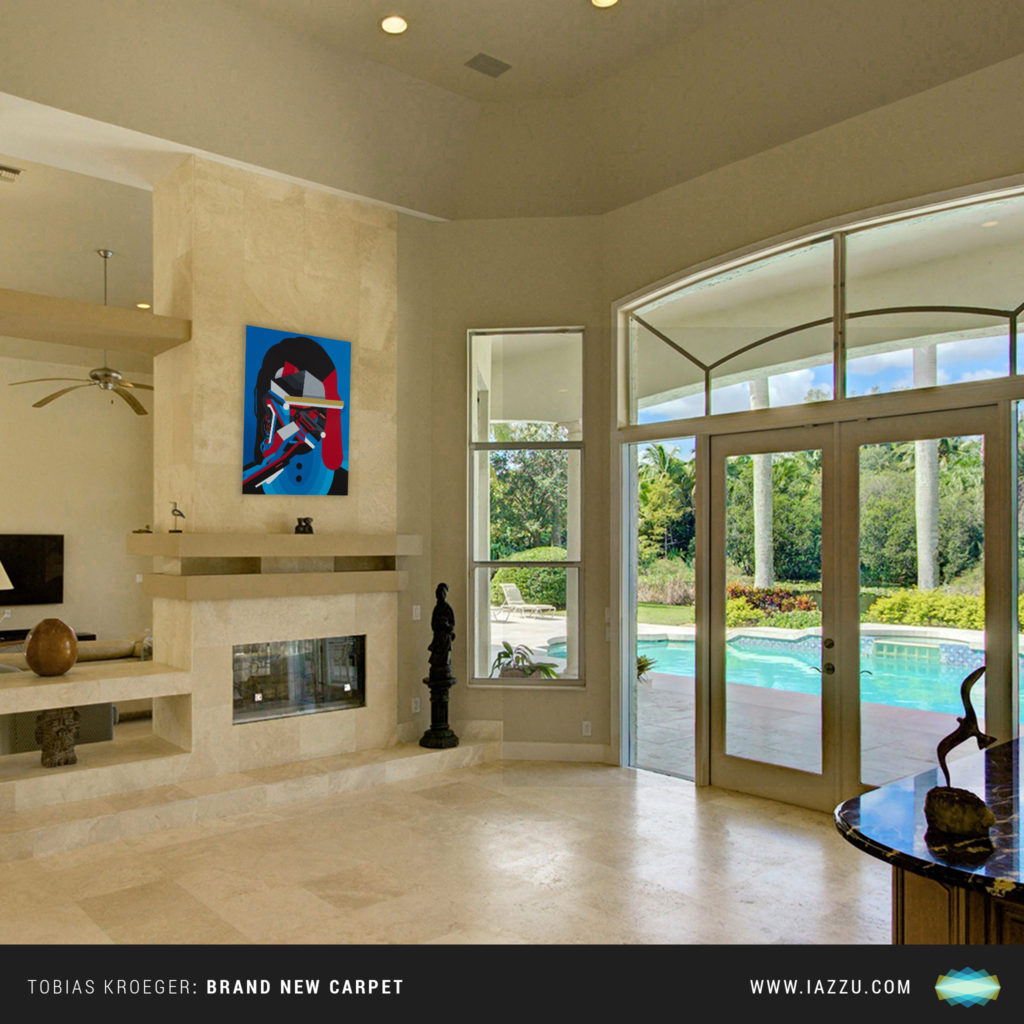 P. How do you see the Online Art Market evolving in the coming years?
According to the Art Basel and UBS 2017 report, more than half of online art buyers are new customers who have never been in contact with the seller before. Online art sales keep growing constantly. People increasingly buy artworks using their mobile devices and the digitalization is creating new needs for the art enthusiast and their expectations are growing at the same time. The potential of digital-virtual realm is only just beginning to be explored. This is our playground, the place iazzu has to be.
P. Our fire questions questionary
1. Your all time Favourite Artist  
Except my father 😉 one of my favorite artist is Cuno Amiet. He was a pioneer of modern art in Switzerland. He also has to his credit very nice mural fresco.
2. Book you would recommend to a friend (not necessarily related with Art)
La nuit des temps (The Ice People (Barjavel novel)
3. Your favorite artist/Artwork at iazzu
It is difficult to mention one but I love "A Torrential November Morning" by Max Rippon.
An artist I particularly appreciate is Etnik. Etnik just joined us this month on iazzu with some stunning artworks
4. Social Media you use regularly and accounts you follow
Instagram, and I follow all the artists we work with on iazzu and beyond. Otherwise, I am following other platforms dealing with art, design or architecture.
5. Which Online Art Platform you use regularly (not Iazzu)
1XRUN. They have an inspiring concept and have published over 1500 limited edition fine art prints.

Fundador, The Art Market Agency.
Experto en marketing online con más de diez años de experiencia ayudando a empresas a crecer en el entorno online. Conocedor de las principales plataformas de comercialización del sector arte y de cómo sacarles el mejor partido para rentabilizarlas.