13 Sep

[Press release] Arte Online Madrid 10/24/2017

The online marketing services company for galleries, auction houses and other engines in the art sector The Art Market presents, for the third consecutive year, "Arte Online Madrid" under the title Big data, technology and online sales. It will take place on October 24, 2017, the news of the online art will be analyzed in three thematic panels: Technology panel, Online marketing and Big data.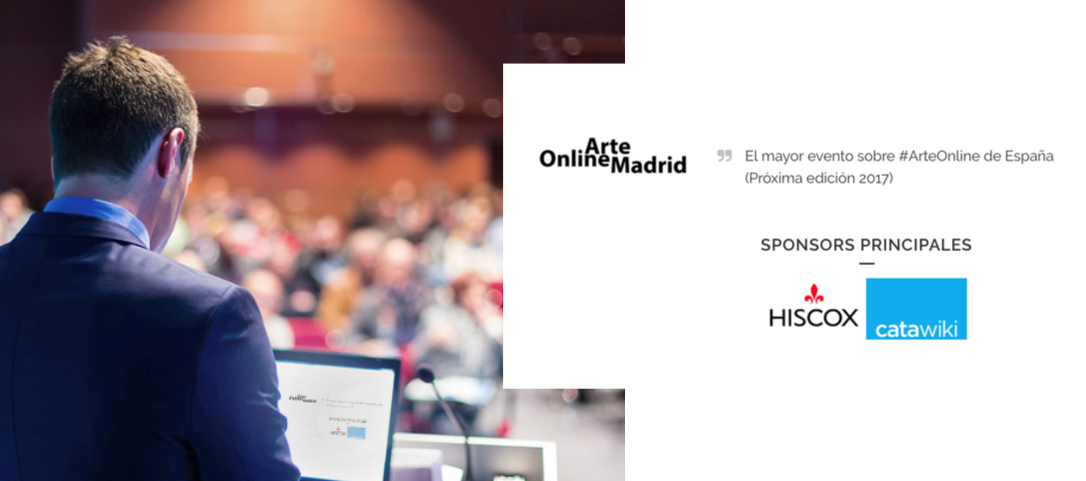 From 10 a.m. to 7 p.m. a series of lectures and seminars will be held, with workshops and a roundtable moderated by Llucià Homs (Talking Galleries), an indispensable plan for the training of those professionals interested in knowing which ones are new technologies focused on selling art online.
Speakers include: Joe Elliot (director of sales and marketing Artlogic), Adeline Pilon (founder of Happening), Annika Erikson (founder of Articheck), Eva Peribañez (Senior Specialist,  Hiscox Insurance) Llucià Homs (cultural consultant and art advisor, Talking Galleries), Consuelo Durán (director of Durán Subastas and Durán Online Gallery) and Ana Trigo (senior art and auctioneer at Catawiki), Chris Dee (senior vice-presindent of Auction Mobility), Xavier Olivella (co-founder of ArtGains Collection), and some still to be confirmed by leading companies in the sector.

Then we present the program of the sessions:
9.30 – 10.00 Registration and collection of accreditations in the Hotel de las Letras room.
10.00 Opening remarks
The Big Data Panel begins, the first of the day.
10.10 – 10.40 Adeline Pilon – FOUNDER OF HAPPENING
"Big data to visualize the value of an artist in the market". More info
10.40 – 11.30 Eva Peribañez – HISCOX INSURANCE
"Analysis of the market report ART ONLINE TRADE REPORT 2016". More info
11.30 COFFEE BREAK & NETWORKING (Terrace Hotel Las Letras)
Panel Art & Tech:
12.00 – 12.30 Joe Elliot – DIRECTOR OF SALES & MARKETING ARTLOGIC
"Quality web catalogs to sell art in your online store". More info
12.30 – 13.00 Annika Erikson – FOUNDER OF ARTICHECK
"Conditions reports of the 21st century: gain time and professionalism". More info
Online Sales Panel:
13.00 – 13.30 Ana Trigo – CATAWIKI
Ana Trigo. How to Invest in successful internet art? More info
13.30 – 14.00 Chris Dee – AUCTION MOBILITY
14.00 – 16.00  (FREE BREAK)
After the break to eat, we will realize workshops and the round table, one of the highlights of the seminars:
16.00 – 16.30 WORKSHOP (1) "Attraction of web traffic for the art sector: positioning and pay per click". By Abraham Villar. More info
16.30 – 17.00 WORKSHOP (2) "Bitcoins to invest in art".                      By Xavier Olivella
17.30 – 19.00 ROUND TABLE "Galleries and Auction Houses before the online challenge" moderated by Lluciá Homs (Talking Galleries)
Speakers: Consuelo Durán (Durán Auctions),
Panel in collaboration with Talking Galleries.
19.00 Conference close.

More information: comunicacion@theartmarket.es
Buy tickets: https://www.eventbrite.es/e/entradas-arte-online-madrid-big-data-tecnologia-y-ventas-online-35168197024

Fundador, The Art Market Agency.
Experto en marketing online con más de diez años de experiencia ayudando a empresas a crecer en el entorno online. Conocedor de las principales plataformas de comercialización del sector arte y de cómo sacarles el mejor partido para rentabilizarlas.