14 May

The growth of online art platforms and why they are the best access for millennials

The client of the 21st century seeks comfort, speed and finding everything he seeks in one place … if we apply it to the world of art, even though brick & mortar companies (those with physical headquarters, for example Sotheby's or a gallery like Gagosian) are still the preferred place to shop, collectors tend to use marketplaces. The numbers indicate this, the recent report by Art Basel in a survey of buyers inferred that 37% frequently use online platforms, in the case of the younger generations (the Z and the millennials) the ratio shoots up between 45% -70% who say always or often use digital platforms to buy art. We use this post again in the Art Basel 2019 report by Clare Mc Andrew.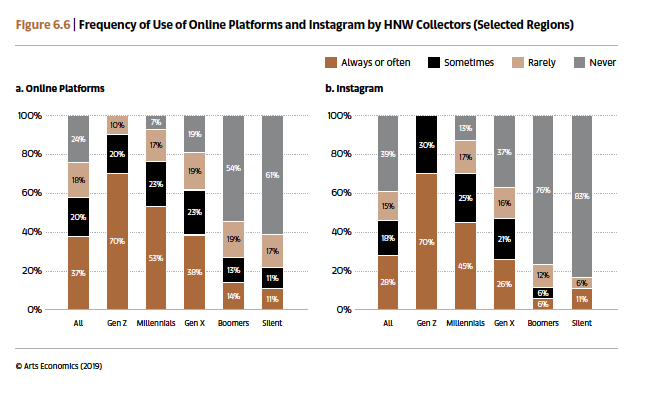 The art companies that sell the most online
The most successful model to sell online are brick and mortar companies that have opted to sell online, directly and through platforms, while betting on technology; obviously brands such as Christie's, Sotheby's or Heritage Auctions lead the ranking of online billing, the first two exceed $ 200 million in digital sales, but beware, the leader in this segment is the Dallas company, Heritage Auction that invoices 488M $ only in online sales. We highlighted in 2018 the sale of a Joan Mitchell painting that was sold in a face-to-face auction of Sotheby's to a remote buyer that was connected via live-bidding and acquired the work for 2.5M $.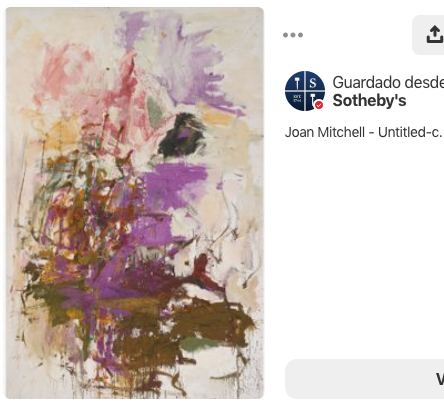 The leading platforms
The platforms as we said at the beginning are already used by 37% of the respondents, a quota that reaches 93% when we talk about young clients. In addition, platforms are especially important for medium-sized companies, accounting for 19% of online sales, and 34% of digital sales come from different online platforms: Aggregators such as Invaluable, Live Auctioneers or Artsy contribute decisively in the development of the sector, in its sales volumes and in technological learning and innovation
Invaluable has had a 2018 record with more than 16,300 auctions held in its environment and a turnover of $ 356M. Artsy for its part is the dominator of the gallery segment, in 2018 had a catalog of more than one million works of more than 100,000 artists, in total offered from its platform an inventory valued at 10B $ with offer of artists, galleries and houses of auctions -the less represented-. As we mentioned in another article, it is easy to project how much an art company could sell online if it exports its catalog to the digital environment.
Auction houses, tell us your billing and we will tell you how much you could sell online, $ 250,000 a year? Then using platforms you could increase your sales by 34%, $ 500,000? 15% more sales, more than 5 million? 6% of online sales.
Does anyone have doubts about the preferred shopping environment of the digital customer?
More information:
State of the digital market 2018

Fundador, The Art Market Agency.
Experto en marketing online con más de diez años de experiencia ayudando a empresas a crecer en el entorno online. Conocedor de las principales plataformas de comercialización del sector arte y de cómo sacarles el mejor partido para rentabilizarlas.