04 May

Zorrilla will auction Zelmira Braga's collections of Cibils and Daniel Castellanos

In the first auction of the catalog presented this season in Montevideo, the auction house and antiquarian Zorrilla Antigüedades will hold a splendid auction that will offer the collections of Zelmira Braga de Cibils and Daniel Castellanos. The activity will be presented by the auctioneer and appraiser Sebastián Zorrilla de San Martín, director of the firm located in Uruguay.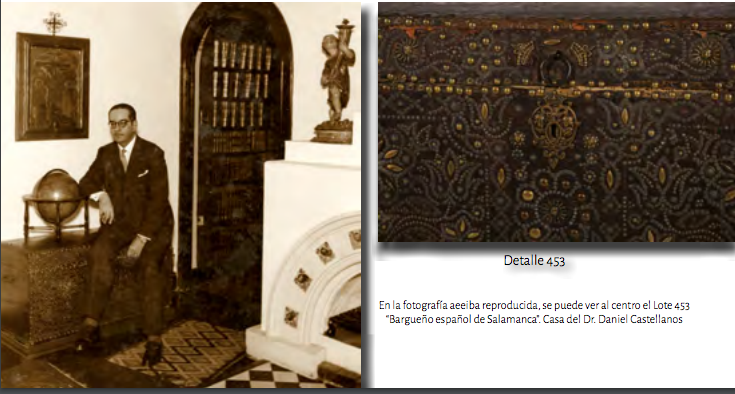 The event will take place during two days, between Friday 19 and Saturday 20 May – both days at 16 p.m. The first day the auction will be from lot Nº 1 to lot Nº 305, while on Saturday 20 will continue from lot Nº 306 to Nº 494. The proposal will have an extensive list of parts, objects and accessories, among books, bronze figures, fans, pottery jars, centerpieces, tapestries, 19th century ceiling chandeliers, lamps, carpets, european carvings and more. The auction will also have maps, plans, pictures, prints and sculptures.
The exhibition will be held until Thursday, May 11 inclusive from 10:00 am to 6:00 pm in the Soriano street Nº 990, in the center of the Uruguayan capital. From Sunday 14 the exhibition will begin in the halls of the Belmont House Hotel, in Rivera Avenue Nº 6512 between Sanlucar and Puntas de Santiago (Carrasco area – Montevideo), from 14 to 18. On working days, from Monday 15 until the day of the auction (Friday 19) the lots will be exhibited from 10 to 18 hours (running time).
History and origin of the auction
This large collection to auction belonged to traditional Uruguayan families of the 19th century and was inherited from generation to generation. However, most of the pieces were owned by Dr. Daniel Castellanos Arteaga, married to Maria de las Mercedes Cibils Larravide, and inherited by his nephew and godson, Dr. Daniel Cibils Salvanach (married to Zelmira Braga Requena).
The father of Daniel Cibils died when he was only 10 years old, and as a result, Dr. Castellanos (as uncle and godfather) took him to Spain in the 1930s, when he served as Uruguayan ambassador. Daniel Castellanos Arteaga (1882-68), brother of the great artist Carlos Alberto Castellanos and had an outstanding career as a lawyer and diplomat. He was member of the National Geographic Society of Spain, of the Hispano-American Academy of Sciences and Arts of Cadiz, as well as of the Universal Cultural Union of Seville.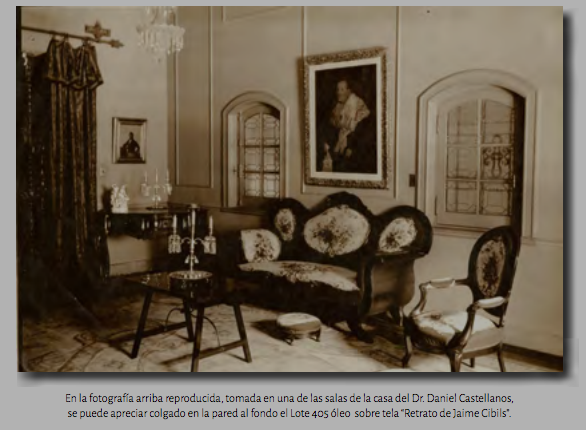 He also had outstanding political work. He was senator, secretary of the Presidency of the Republic (1927-1930), minister of Public Instruction and minister of Foreign Affairs. Also standing out as Professor Ad Honorem of Universal History and member of several academies of History in America and Europe. Author of books on Greek History and Literature, he translated texts from Greek and Latin.
His residence in Montevideo was located in the Old City (Montevideo), in the Washington street Nº 267. The great majority of the pieces that come to finish decorated the said house. The Castellanos residence is currently the headquarters of the Naval Sub-Officers Center of the Navy.
Featured lots
As for the most attractive and relevant lots according to the organizers, an antique Chinese jug in metal and bronze, with decorated sides and applications in chiselled silver and images of "Leaves, dragons, flowers and symbols" will be auctioned. The piece has a chiseled handle and sculpture "Dragon and leaves", chiseled and sculptured beak "Head and elephant trunk" and cap with chains. Measures: 40 cm high, 40 cm wide. And a depth of 10 cm.
Also offered for sale is a Celestial Globe, Copernicus system, manufactured by Charles Francois Delamarche (France 1740 – 1811). This balloon was manufactured between 1808 and 1811, and this reference is detached from the balloon cart, where is the information of where the house was located Delamarche de Paris at that time "Rue de Jardinet 12". The structure of the balloon is a cardboard sphere entirely covered with stucco on which were stuck 12 complete spindles and two polar ice caps printed paper, with two rings (Horizon and Meridian) made in stucco on cardboard, covered with varnished paper and supported on a base of turned wood from where four arms come out that support it pointing out the main geographical points of the time. The vertical ring with inscription "MERIDIEN" indicates the degrees of height of the Poles, whereas the Horizon ring indicates the months of the year, the cardinal points and zodiacal signs. Measures: high 26 cm, total diameter of 15.5 cm. And a sphere diameter of 10.7 cm.
With reference to the pieces with more antiquity and history of the auction, stands out a Bell in cast bronze, made by the Belgian artist Melchior De Haze and dated in 1671. As a result of the fire that occurred in the year 1671 in the Real Monastery of San Lorenzo de El Escorial (Madrid – Spain), was lost the carillon that had in his tower, for this reason King Charles II had another carillon built for an obscure smelter, who had been an apprentice and assistant to the famous brothers Hemony: Melchior de Haze. His first work was precisely this carillon for the Royal Monastery, which was an important and responsibility. The bells he produced were of high quality. The order did not come only to El Escorial, since other games lighter (of less heavy bells) were included: one of 32 bronzes for the palace of El Pardo and another one of 25 for the Royal Palace of Aranjuez. The bells of De Haze sounded in Spain, but they did it in environments of the Court: cultured and select music associated with the Real Sites. This bell has a royal Spanish shield engraved with a guard decorated with "Leaves", and inscription "MELCHOR DE HAZE ME F A 1671". Turned details, hook in the form of "Crown" of six legs (one leg missing), with clapper in wrought iron. The bell was given to Daniel Cibils Castellanos, being student of the Escorial, by the priests or professors; This important bell was awarded in recognition of his attitude by sheltering his classmates during the Spanish Civil War, since Daniel Cibils Castellanos resided in the Uruguayan Embassy of Madrid with his uncle-godfather, Daniel Castellanos, who at the time was the ambassador Uruguayan in Spain. Measurements: high 22 cm and 21 cm diameter. (With old restoration).
Among the important lots to be auctioned on the first day, there is an Automaton pocket watch of repetition in quarters, manufactured at the beginning of the XIX century (1800-1810) by Veigneur Frères Et Coret (Genoa – Switzerland), with machine by movement of Chain, signed and numbered 17326, with six movements – four in operation. The movements and applications are in gold, where two angels beat the bells, with workers and animals, a worker pruning a tree and a kid eating fruits of the same, one of the movements with missing. Sphere enamelled in several colors with "Landscape and garlands" (with bumps), enamelled white dial with cracks. Clock working (precise regulation). With box in 18 carat gold and chiseled "Leaves", has a total diameter of 59 mm.
Another option highlighted by the experts of Zorrilla Antiquities team is a Mapamundi printed in Amsterdam (Holland) by Pierre Mortiere in 1696 and attributed to the master Nicolas Sanson with the legend "NOVA ORBIS TABULA ad Usum Serenisimi BURGNDI AE DUCIS", representing the world in two "Eastern" and "Western" hemispheres, surrounded by four small polar projections, with two decorative allegorical posters, one with the detail of Mappe-Monde Dresse sur les Observations by Mrs. De L'Acadamie Royale des Science " , And another with print data. Colored by hand. Measures: Height of 51 cm and 65 cm of wide.
Regarding books, one of the suggestions of the auction house is the ESOPO Book. Aesopi Phrygis Fabulae Graece & Latine, Cum aliis opusculis, quorum Index proxima resertur pagella. Denuò, & quàm correctissimè in lucem editae. Superiorum Permissu, & Privilege. Venetiis, MDCXIX. (1619). Text in Latin and in ancient Greek. Due to the passage of the years the publication has some fungi and moisture marks. In this same heading another option that stands out is the book Albius Tibullus (Latin text). Catullus, et al. Commentary M. Antonii Mureti. Venetiis, MDLVIII (1558). Apud Paulum Manutium, Aldi Filium. Part of a second edition, has Signature of the former owner in the guard, is dated in 1949, Text manuscripts on the cover. Binding on papyrus. Moth drills that affect the binding, back cover, guard, cover and first leaves. Stains of moisture on the leaves.
Zorrilla will also offer to the highest bidder a European picture titled "Battle between Ottoman and Christian Turks", an oil on canvas with measures of 67 cm high and 85 cm of wide. This iconographic picture, with illegible signature, shows the defense of Vienna against the Turkish invasions of 1683 on the banks of a river with bridge.
Another of the most representative objects of the auction is a Greek Cretan Icon from the 16th century. It is oil on wood painted by hand with details in gold foil "Scene Christ crucified on Calvary or Golgotha, accompanied by the Virgin Mary, the apostle John and Mary Magdalene." In the cross you can see the card with the inscription "INBI" instead of "INRI", demonstrating the Greek origin of this work. The "R" of Rex is supplanted by "B" of "BASILEUS" King in Greek. In turn, to the right on Mary Magdalene is observed the greek letters "IOTA" and "OMEGA", which means the initials of the Apostle Juan in Greek. It is composed of an original hand-painted oil painting on stucco and wood, which is dated "YEAR 1515" and the slightly readable phrase "D. LUIS RODRIGUEZ AND IEGER D. YSABEL ESPINOSA CRON MAIORDOMOS DEL SEÑO ". Measures of the icon: high of 55 cm and 40 cm of wide. With frame: high 71,5 cm and 56.5 cm wide. The piece has minor breakdowns and restorations.
As far as documents are concerned, a Letter from the American Committee on Africa, addressed to Dr. Daniel Arteaga Castellanos dated August 19, 1957 and signed by Mrs. Eleanor Roosevelt – International Chairman, James A. Pike US Chairman (The Very Rev.), Martin Luther King US Vice-Chairman (The Rev.). This historic, machine-read letter reports on the difficult thematic of Apartheid and the problems of racism in South Africa and political prisoners. In the same one is made a request of support to the leaders of the nations in order to create a committee of aid for the cause. The letter is written in two pages where different papers are used: The first page is lettered with water mark illegible, has measures of 28 cm. High and a width of 21.5 cm. Meanwhile, the second page, numbered "2" has a watermark, "Esquire Bond – Made in USA – Rag Content" – measures 27.9 cm high and 21.7 cm of wide. The two sheets have perforation for biblorate. It is possible to clarify that by error of the sender the name was wrongly written, the correct one is Daniel Castellanos Arteaga.
As part of the furniture to be auctioned, Zorrilla considers relevant a Spanish bargain of Salamanca of the XVII century, in wood with applications and side handles in wrought iron and gold. Fully carved and gilded front with hand painted details, it has applications in decorated bone "Flowers" and columns turned into bone. The furniture has six drawers and central chest with handles, keyhole and wrought iron lock (small breakdowns and moths). Measurements: high 41 cm., 74 cm of wide. and a depth of 35 cm. With table of support of solomonic style in wood with four legs turned and sculptured front "Two heads of golden lions".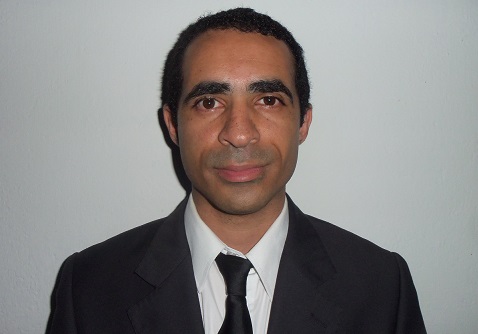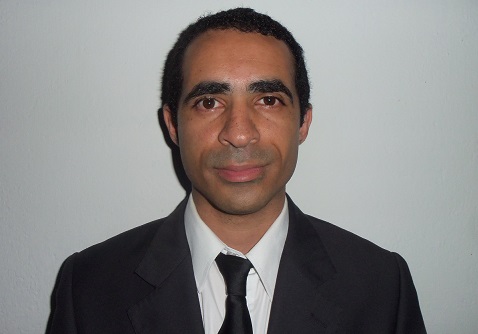 Art Market Bloggers:  
Pablo Piñeyro Giménez
Journalist – Technician in social communication. Specialized in auctions and art exhibitions. Uruguay

Fundador, The Art Market Agency.
Experto en marketing online con más de diez años de experiencia ayudando a empresas a crecer en el entorno online. Conocedor de las principales plataformas de comercialización del sector arte y de cómo sacarles el mejor partido para rentabilizarlas.